MHM Magnetic Gripper Kit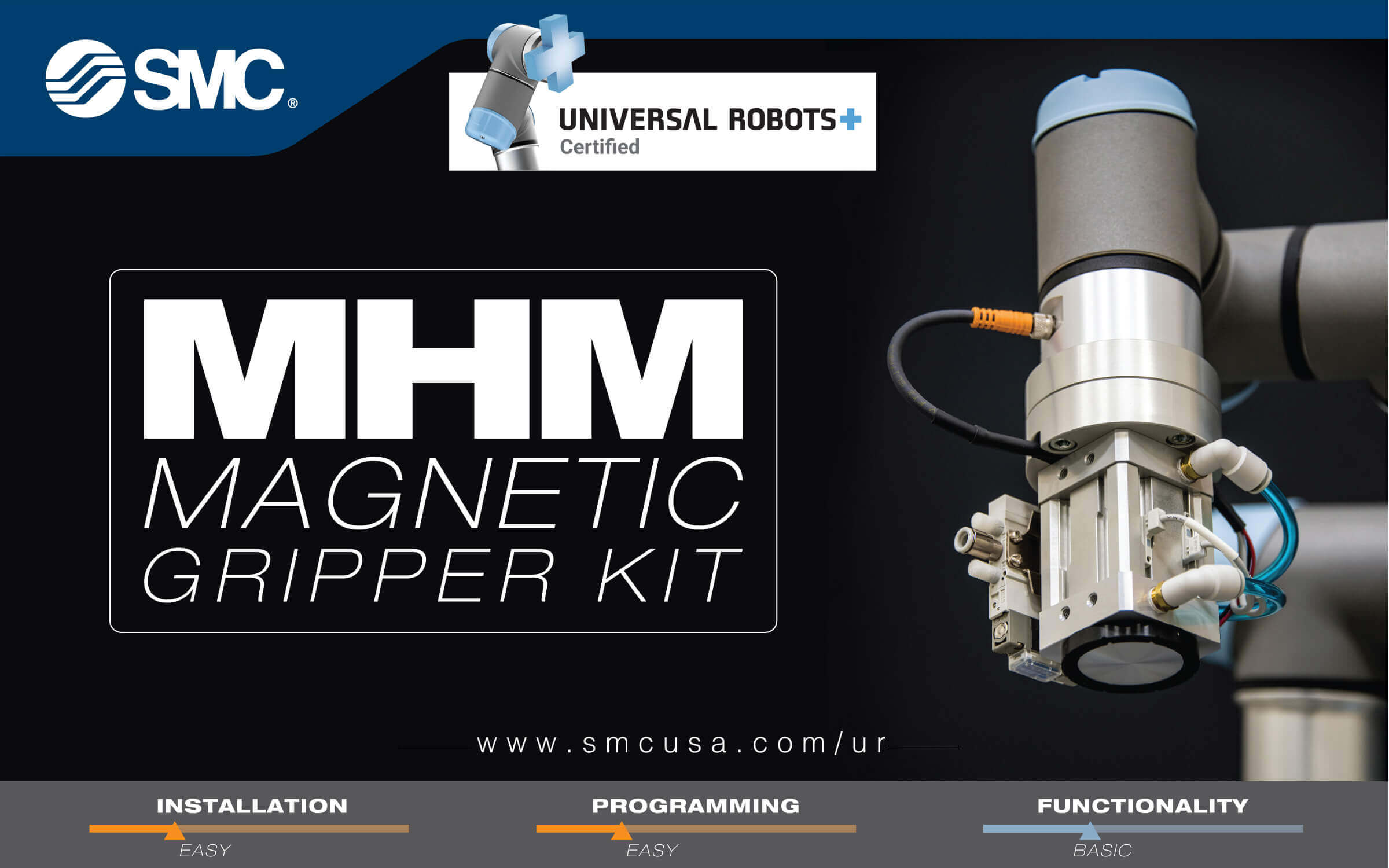 The UR+ Certified MHM Magnetic Gripper Kit's easy Plug + Play integration is a solution for transferring ferromagnetic workpieces that are of uneven surface, porous, or susceptible to damage when traditional methods of vacuum systems or mechanical grippers are not viable solutions.
From Startups to experienced integrators, SMC has the global support to equip your UR e-series cobots with a solution complete with URCap plugin to reduce design and programming. The kit includes the magnet gripper, adapter plates, solenoid valve, solid state switches, tubing, fittings, and URCap plugin.
How Does It Work?
Simply mount the adapter plate & both MHM Magnetic Gripper and valve assemblies to the robot, connect the cable to the UR port, and connect your air supply line. And for those who don't want to reinvent the wheel, users can download the URCap plug in onto the robot's teach pad for quick start up.
The magnetic gripper is designed with a strong magnet attached to the piston. When a workpiece is ready to be picked up, a signal is sent to the valve to supply air to extend the piston. As the piston actuates, the magnet extends and increases the magnetic force near the workpiece and allows it to be picked up. The bumper thickness allows the holding force to be adjusted. When the workpiece has been transferred to its desired location, send the signal to the valve to retract the piston, which thereby reduces the magnetic force and releases the workpiece.
Features & Benefits
Design prevents deformation of workpieces and accidental adsorption of a second workpiece.
High holding force up to 80N *based on workpieces with thickness of 0.6mm
Holding force can be easily adjusted with varying bumper thicknesses offered as spare parts
Residual holding force of 0.3N or less helps reduce workpiece release time to promote overall production efficiencies
Included is SMC's flagship SY series 5 port solenoid valve with improved performance and reliability
URCap plugin included to ease integration and programming
Available worldwide and backed with SMC's global presence & support
Technical Details
MHM Magnetic Gripper Kit part number: MHM-32D1-URKIT

Includes a URCap plugin

Compatibility: UR3e, UR5e, UR10e

Software version required: PolyScope ≥5.1

Dependency: Requires 6mm or ¼" tubing connection to compressed air supply

Dimensions: 97mm x 81mm x 117mm (3.82in x 3.19in x 4.61in)
What's in the box?
MHM Magnetic Gripper MHM-32D1-X6400
SY Valve
Adapter plates
Autoswitch cabling
Tubing & Fittings
Tools
User Manual
USB Flash Drive with URCaps plug-in
License Type
One-time purchase
Free URCap software
Free URCap updates as needed (Download)
---