Temperature Control Equipment
Temperature Control Equipment

The success of manufacturing processes can be highly dependent upon temperature. Examples include brewing fermentation, dispensing of package adhesives, and biomedical liquid reactions. Excess heat can also lead to damage to the equipment itself. Lasers, printers, traditional chip cutting tools and welders all require cooling during operation.
---
Chillers for General Industries

General Use Compact Chiller
HRS/HRSE compact recirculating chillers are designed to meet the widest range of single-point applications in both industrial and technology settings. The package design is robust enough for the factory, yet ergonomic and compact for lab installations. Coolant can be either heated or cooled within the set temperature range. Choose from eight cooling capacities, air or water cooled refrigerant, and global power supply options.
Product with ID: "126800" not found.

Large Capacity Chiller
HRS high capacity standard chillers offer cooling capacities of 9, 10, 15, and 20.5 kW. Coolant and refrigeration circuits are included in a compact package. Extracted heat can be air or water cooled. Set temperatures are PID controlled, while the system is monitored for 42 alarms. Additional features include a heating function, serial communication, and IPX4 ingress rating for outdoor installation.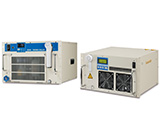 Rack Mount Chiller
HECR and HRR are temperature control devices mountable in a 19-inch rack. HECR uses a refrigerant-free Peltier device for high precision regulation. The HRR offers greater heat capacity using a refrigeration circuit. Both coolant circuit technologies can be air or water-cooled. Rack mounts recover desktop or floor space, permit stacking of related devices, and are mobile. These chillers meet CE and UL standards and include power supplies with global compatibility.
Chillers for High Technology Industries
Product with ID: "126850" not found.
Pressure and Flow Sensors for Coolant

PF2D Flow Switch for Liquids
PF2D is a flow switch for liquids including high purity chemicals, solutions, and deionized water.  The PF2D is a remote sensor that sends output to a 4-channel panel monitor capable of reporting up to 4 separate outputs.  Three flow ranges are available, as well as 3 tube size connections.  The monitor displays instantaneous or accumulated flow, as well as an indicator for switch output.  This 4-channel monitor reduces installation, space, wiring and cost.

KFG2 Stainless Steel Fitting
Series KFG2 fittings can operate with ambient operating fluid temperatures of -65 to 260ºC (swivel elbow type -5 to 150ºC).  With their stainless steel 316 construction and unique non-rubber seal insert connection, these grease-free fittings offer high levels of corrosion resistance, and can be used with numerous piping materials including FEP, PFS, soft and regular nylon, polyurethane and polyoelfin.  Available in male elbow, male connector, male branch tee, straight union, union tee, bulkhead union, union elbow, swivel elbow and female connector options, the KFG2 fittings can accommodate tube sizes from 4mm to 16mm and 1/8" to 1/2" with port sized thread connections from R1/8 to R1/2 and 1/8NPT to 1/2NPT.

LQ Fluoropolymer Fitting
SMC high purity HYPER FITTING series LQ* responds to the latest demands in process control. From parts cleaning to assembly and packaging, all processes are controlled for cleanliness, and the use of new PFA virtually eliminates particle generation and TOC (total organic carbon) allowing confident use for the most demanding applications. If chemistries or flow requirements are changed during process, our face seal design allows for quick change of tubing, and/or tube diameters, using the same fitting body.

Tubing
SMC manufactures Fluoro-resin tubing for use in environments involving high temperatures and/or corrosive fluids. Pneumatic tubing is also available in a number of other materials both with and without reinforcement for use in standard applications. SMC fittings incorporate a positive tube seal while the fitting is under pressure which allows polyurethane tubing to be used.
Tubing is available in sizes of 1/8", 5/32", 3/16", 1/4", 5/16", 3/8", and 1/2". Metric tubing sizes of 3.2, 4, 6, 8, 10, 12, and 16mm are available.
Applications Powered by SMC
---