Universal Robots + Certified
Universal Robots + Certified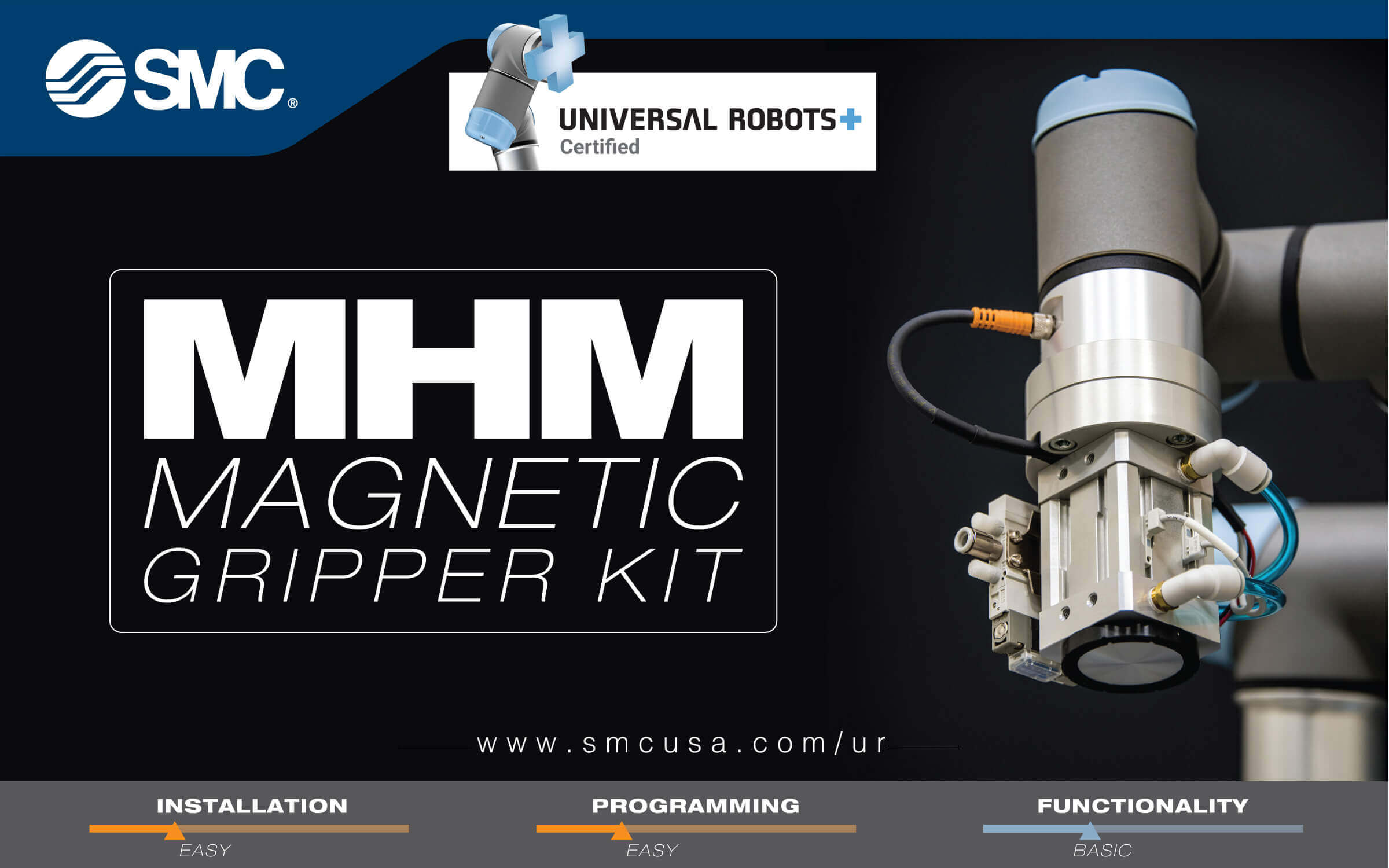 The UR+ Certified MHM Magnetic Gripper Kit's easy Plug + Play integration is a solution for transferring ferromagnetic workpieces that are of uneven surface, porous, or susceptible to damage when traditional methods of vacuum systems or mechanical grippers are not viable solutions.
From Startups to experienced integrators, SMC has the global support to equip your UR e-series cobots with a solution complete with URCap plugin to reduce design and programing. The kit includes the magnet gripper, adapter plates, solenoid valve, solid state switches, tubing, fittings, and URCap plugin.
How Does It Work?
Simply mount the adapter plate & both MHM Magnetic Gripper and valve assemblies to the robot, connect the cable to the UR port, and connect your air supply line. And for those who don't want to reinvent the wheel, users can download the URCap plug in onto the robot's teach pad for quick start up.
The magnetic gripper is designed with a strong magnet attached to the piston. When a workpiece is ready to be picked up, a signal is sent to the valve to supply air to extend the piston. As the piston actuates, the magnet extends and increases the magnetic force near the workpiece and allows it to be picked up. The bumper thickness allows the holding force to be adjusted. When the workpiece has been transferred to its desired location, send the signal to the valve to retract the piston, which thereby reduces the magnetic force and releases the workpiece.
Features & Benefits
Design prevents deformation of workpieces and accidental adsorption of a second workpiece.
High holding force up to 80N *based on workpieces with thickness of 0.6mm
Holding force can be easily adjusted with varying bumper thicknesses offered as spare parts
Residual holding force of 0.3N or less helps reduce workpiece release time to promote overall production efficiencies
Included is SMC's flagship SY series 5 port solenoid valve with improved performance and reliability
URCap plugin included to ease integration and programming
Available worldwide and backed with SMC's global presence & support
Technical Details
MHM Magnetic Gripper Kit part number: MHM-32D1-URKIT

Includes a URCap plugin

Compatibility: UR3e, UR5e, UR10e

Software version required: PolyScope ≥5.1

Dependency: Requires 6mm or ¼" tubing connection to compressed air supply

Dimensions: 97mm x 81mm x 117mm (3.82in x 3.19in x 4.61in)
What's in the box?
MHM Magnetic Gripper MHM-32D1-X6400
SY Valve
Adapter plates
Autoswitch cabling
Tubing & Fittings
Tools
User Manual
USB Flash Drive with URCaps plug-in
License Type
One-time purchase
Free URCap software
Free URCap updates as needed (Download)
Additional Info

Contact: MARKETING@SMCUSA.COM
---
---
Pneumatic Grippers (UR+ Certified)

Air Gripper Unit for Collaborative Robots
Air gripper unit for collaborative robots.  Plug and play configuration for use with URCap compatible programming.

MHM Magnectic Gripper for Collaborative Robots
Series MHM is a magnetic gripper that can be used in place of vacuum cups or grippers when holding a metallic workpiece. Position sensors can be mounted on all 4 sides and can be mounted on 3 sides.
Related Pneumatic Grippers (Not UR+ Certified)
Related Electric Grippers (Not UR+ Certified)

2 Finger Gripper
The LEH family of electric grippers includes three series fitted with two fingers. Series include the LEHZ standard, the LEHZJ with IP50 dust cover, and the LEHF with low profile fingers and long stroke options. Benefits include adjustable gripping forces, a drop prevention function, and gauging capability for recognizing different dimensions and outputting length measurements.
3 Finger Grippers
The LEHS series electric grippers are equipped with three fingers, offering the ability to hold round work pieces. Four sizes are available. Benefits include adjustable gripping forces, a drop prevention function, and gauging capability for recognizing different dimensions and outputting length measurements.
Related Pneumatic Cylinders (Not UR+ Certified)

JMGP Compact Guided Cylinder
Series JMGP compact guided actuators are double acting, compact and lightweight. The JMGP is suitable for pushing, lifting or clamping applications.

JCQ Compact Cylinder
Series JCQ Compact Actuators are double acting, single rod, compact and lightweight.
Related Vacuum Products (Not UR+ Certified)

Vacuum Cup/Generator
Vacuum pad and generator are integrated for space savings. The two-stage generator increases suction flow up to 50% and reduces air consumption up to 30%. Design features allow for daisy-chain piping and the mounting with lock plates makes for easier maintenance.

Vacuum Saving Valve
ZP2V is a vacuum saving valve that when multiple vacuum pads are operated by one vacuum generator, and some of them are not holding the work piece, the reduction of vacuum pressure is restricted and the work piece can remain held by the rest of pads. When the work pieces have different shapes, the control circuit can be simplified. There is no need for switching operation when changing work pieces.
Related Fieldbus Products (Not UR+ Certified)

Wireless Fieldbus System
The EX600 serial interface offers a full suite of diagnostics and programmable parameters to meet the most stringent requirements. The EX600 offers excellent flexibility including digital input, digital output and analog input unit options. With the use of D-sub output blocks, a maximum of 9 remote D-sub manifolds can be attached to one EX600 communication module. This serial interface is compatible with series SV1000/2000/3000, VQC1000/2000/4000, S0700 and the new SY series valves. Available protocols include  Ethernet/IP™, PROFINET.  The EX600 wireless cannot be used in countries where wireless is not supported.  Refer to the catalog for details of countries where wireless is supported.
Applications Powered by SMC
---