Water Resistant Cylinders
Water Resistant Cylinders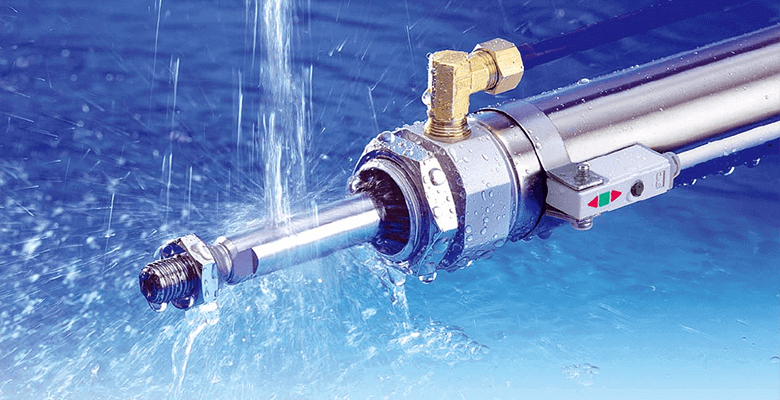 SMC has a range of standard, made to order, and specialized cylinders with a combination of stainless steel construction, water resistant seals, and special rod scrapers designed to prevent corrosion from exposure to water or coolant.
---

CG5-S Stainless Steel Air Cylinder
The CG5-S series is a stainless steel cylinder that uses grease for food processing machines that meets FDA standards. The CG5-S series can be disassembled for replacement of seals which extends the service life of the cylinder. All stainless steel specification for external parts. Mounting bracket surfaces have been electropolished, making them smoother to prevent build-up of liquids and foreign matter. Plugs are provided for unused mounting threads to prevent residue build-up in the threads.

CJ5-S Stainless Steel Air Cylinder
Series CJ5-S is a small bore stainless steel cylinder, designed for use in environments with water spray (such as food processing machines). A special scraper (standard) prevents water from entering the cylinder. Non-toxic additives allow confident use in equipment for food, beverage and medical products, etc. The CJ5-S series can be disassembled for replacement of seals.
Product with ID: "53538" not found.
Product with ID: "53403" not found.

LEY-X5, Electric Actuator, Rod Type, Dust/Drip Proof
The X5 option, available for the LEY series in sizes 25 and 32, is a dust and drip proof specification equivalent to IP65. For DC motor models, the spec is achieved by enclosing the motor in a sealed aluminum cover with a special cable connector, and pairing the rod with a scraper and lub-retainer. Additionally, the body extrusion includes a vent hole and fitting to balance internal pressure so that dust and water are not drawn in.

MGPM*R/V-Z Guided Water Resistant Cylinder
The MGPM Water Resistant cylinder is a compact body actuator integrated with internal guide shafts to isolate the load bearing from the movement of the actuator's rod and seals.  The water resistant option includes rod wipers on the guide rods and piston rod.  This option is ideal for application exposed to coolant and water splashing.
Applications Powered by SMC
---