Tire Manufacturing Components
Tire Manufacturing Components

SMC offers a comprehensive line of pneumatic products which both meet and exceed the tire manufacturing process demanding requirements. The result is a robust pneumatic system capable of:
Continuous 24/7 operation
Efficient production ramp up
Operating in extreme temperatures environments
SMC products address the challenge of providing maximum performance while minimizing energy costs and downtime. The sampling of products below demonstrates how SMC continually innovates to meet the evolving needs of the tire manufacturing process.
---
Products for General Tire Manufacturing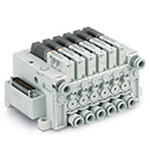 Vacuum Equipment
Vacuum generator units, vacuum cups, vacuum buffers, vacuum sensor switches, fittings and vacuum instrumentation solutions allow the broadest utilization of technology and performance to meet your design  specifications. Most options are modular allowing you to add only those that are relevant to your application. SMC vacuum cups are available in many different materials, sizes and shapes, and include options  like stroke buffers to ensure that a perfect fit is made for each application. The diverse performance characteristics of SMC vacuum products allow utilization in a wide array of applications from manufacturing,  packaging, assembly, to material handling. Precision combined with performance and a full line of accessories offers a comprehensive engineering solution to meet your specific need.
Featured Products for Tire Compounding & Mixing

Standard Large Bore Cylinders
Large Bore standard double acting, single rod version of the CQ2 compact cylinder. The CQ2 is available in bore sizes from 125mm to 200mm. It comes standard with male or female piston rod threads. It is possible to mount auto switches on any of the 4 surfaces..
Compact, double acting, single rod, large bore
Bore size (mm): 125,  140, 160, 180, 200
Standard stroke (mm): 10 through 300
Port thread types:  Rc, NPT, G
Auto switch capable

Large Bore Tie Rod Cylinders
Series CS2 air cylinder is a double acting, non-lube air cylinder. Aluminum die-cast is used for both the rod and head covers, which means a maximum weight reduction of approximately 50% (basic 125mm bore, 100mm stroke).  This series is available in bore sizes 125mm, 140mm and 160mm with maximum strokes up to 1600mm (depending on the mounting configuration).  Air cushions are standard on both ends.  Other options include auto switches, rod boots, and Rc, NPT or G thread types.

Electric Actuators
Electric actuators offer distinct advantages over their pneumatic counterparts. Acceleration and speed are controlled and predictable. Multiple positions are possible with high precision and repeatability.  Pushing forces can be programmed. With no need for compressed air, infrastructure and energy costs are lower. LE is SMC's current line of electric actuators, designed with a focus on easy setup and operation.  Function parameters come preset, plus an "Easy Mode" setting option allows you to be operational quickly. The LE line is available in a variety of types including: sliders, rod and guided rod, slide tables,  rotary, grippers, and miniature. Accessories include actuator controllers, and gateways.
Featured Products for Tire Component Preparation

Process Instrumentation
To further compliment an abundant line of air preparation and connector equipment, SMC offers a selection of electronic sensors including digital pressure switches, vacuum switches, and flow switches.
Featured Products for Tire Building
Featured Products for Tire Curing
Featured Products for Tire Inspection