SMC Products for the Food Processing & Packaging Industry

SMC provides a broad array of products for complete systems and multiple applications. This results in pneumatic systems that are capable of meeting diverse food processing and packaging requirements like:
Continuous 24/7 operation
Stringent hygiene regulations
Continual wash down
Operating in extreme temperatures
SMC products address the industry requirements of providing maximum performance while minimizing energy costs and downtime. The featured products below are categorized for reference under: Food Sanitation & Hygienic, Environment Resistant, Energy Saving/Reduced Wiring, High Speed, Temperature Control, High Pressure, Safety, Adsorption Transfer, Static Control, and Steam.
---
Food Sanitation & Hygienic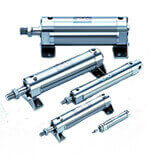 Water Resistant Cylinders
SMC has a range of standard, made to order, and specialized cylinders with a combination of stainless steel construction, water resistant seals, and special rod scrapers designed to prevent corrosion from exposure to water or coolant.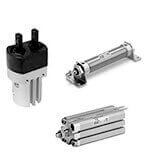 Paper Powder/Dust Resistant
Selecting pneumatic components for service in a dusty environment presents some hard challenges. SMC pays attention to critical issues of reliability, selection, compact design and support. SMC offers solutions that deliver performance in the extreme applications.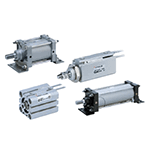 Temperature (Heat/Cold) Resistant
Pneumatic components used in "extreme" temperature applications require a different design mindset. SMC has products that are specifically designed to be used in both high temperature and low temperature applications.
Energy Saving/Reduced Wiring

EX260 Compact SI (IP67)
EX260 series is a compact and cost effective fieldbus solution for output applicable to SMC's most popular directional control valves such as New SY, SV, VQC, and S0700 Series. It can control up to 32 solenoids in one manifold. Available protocols are EtherNet/IP™, PROFINET®, EtherCAT®, PROFIBUS DP®, DeviceNet™ and CC-Link. EX260 series has standard dual port connectivity to eliminate the need of switches or branch connector, reducing wiring and component cost. IP67 enclosure rating ensures protection against dust and washdown environment.

VQ20/30 2-Port Solenoid Valve for Dry Air
The VQ20/30 series is a pilot operated, two port multi-media valve. The series is compact and lightweight with a large flow capacity. The VQ20/30's long life, high speed coil (up to 20 million cycles at 100cps for pneumatic use) along with its all plastic construction make it an excellent choice for those who want high performance at a lower cost.

KN Air Blow Nozzles
With the release of the KN series nozzles and gauge heads 30~90% of air consumption required for the current nozzle operation can be saved with the appropriate selection of the new nozzle and sizing. Many variations of nozzle are available with tube materials including nylon, soft nylon, soft copper pipe and OST tubing. Sizes range from 4mm-20mm.

VXB 2-Port Air Operated Angle Seat Valve
VXB series is an air operated valve for steam that utilizes angle seat structure to minimize pressure loss.  It is available with stainless steel 316L or bronze body material, and port size ranges from 3/8" to 3/4".  FKM seals are utilized to reduce leakage and provide long service life of over 3 million cycles (steam) or 5 million cycles (air)

VXS 2-Port Pilot Operated Solenoid Valve
VXS 2 port solenoid valve for steam is compact and lightweight, designed to operate with no need for differential pressure. The VXS is considerably quieter than similar valves due to its special construction and full wave rectifier type solenoid. A piston main valve and special FKM material for both the valve and seal help reduce internal leakage to 1.0 cm³/min or less, and improve life cycle and valve reliability. The VXS valve series is RoHS compliant and meets IP65 enclosure guidelines.