Sustainability in Automation Award
Sustainability in Automation Award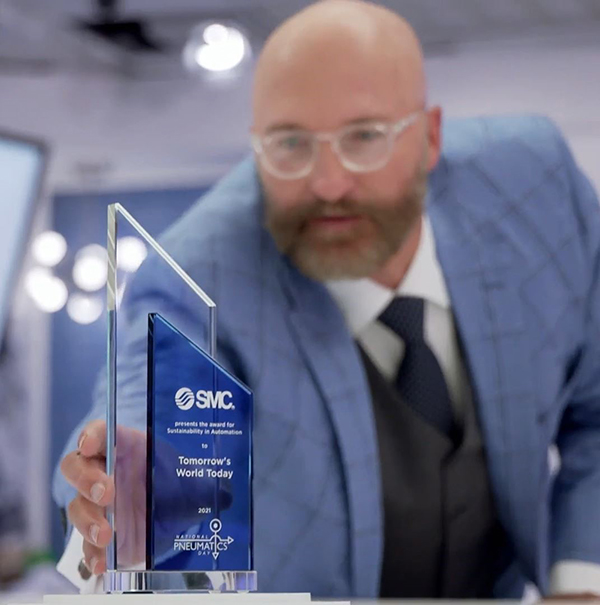 To complement our emphasis on sustainability on National Pneumatics Day, we present a Sustainability in Automation Award to a company that exemplifies responsibility and sustainability in automation through corporate messaging, operations, and additional efforts. This company can be a customer, distributor, vendor or supplier, partner, or any company that works with SMC and exemplifies such efforts.
As the leading global manufacturer of pneumatic components, SMC supports the responsible and sustainable use of pneumatics. We partner with our customers to discover creative ways to reduce overall compressed air and electrical consumption more than anyone else in the industry. Our comprehensive approach focuses on consuming less raw materials in our manufacturing process by making our products smaller, lighter, and extending the operating life.
We want to recognize the companies that value sustainability; in recognizing these companies, we hope to foster motivation in others to instill sustainability in automation, too.
Sustainability in Automation 2022 Winner
Saitex is the "Cleanest Denim Manufacturer in the World." The company uses 98% recycled water in their denim production. The average pair of denim pants requires roughly 22 gallons of water, but the green tech washing machines at the factory use less than 1/5 of a gallon. Every year, the fashion industry uses 93 billion cubic meters of water, which is enough to meet the annual consumption needs of five million people. This goes to show the impact of this recycled water.
To expand on this commitment to sustainability, Saitex opened a Factory of the Future in March 2021; they invested millions of dollars in energy- and resource-efficient machinery to focus on sustainability. This commitment to conserving energy has led Saitex USA to reduce their energy usage by 13 million kilowatt-hours per year and reduce CO2 emissions by nearly 80%.
Saitex USA is a true example of a company that exemplifies sustainability in automation through their operations and additional efforts.
Sustainability in Automation 2022 Nominees
The following companies were nominated for the 2022 Sustainability in Automation Award for their contributions to sustainability in automation. We applaud each of these companies for their efforts and recognize them for their nomination of the award.
Sustainability in Automation Award
---