90-AFM20-40, AFM Mist Separator
90-AFM20-40, AFM Mist Separator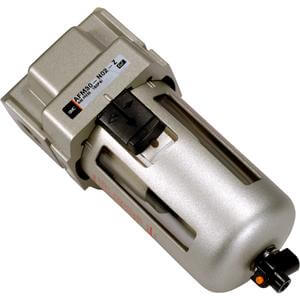 Series 90-AFM Modular Style Mist Separator is a cost  effective, clean looking solution to your filtration needs. The standard filtration is 0.3µm with a 95% particle size  collection rate.  The modular design allows connection with other SMC air preparation equipment.  90-AFM is made from materials compatible with secondary battery manufacturing. Use in combination with the AF series to meet your clean room filtration requirements.
Mist separator
Can be used in a more compact modular design
Bowl can be attached and detached with one hand
Turn proof structure at pressurized state for bowl removal
Standard drain cock for one-touch drain exhaust.
Cost effective and clean looking design.
---