IZN10, Ionizer, Nozzle Type
IZN10, Ionizer, Nozzle Type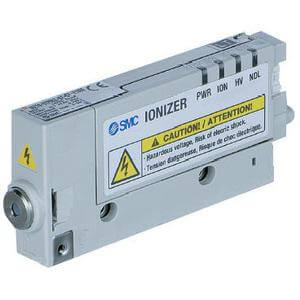 The IZN10 is SMC's nozzle ionizer. The nozzle ionizer emits an air-assisted cone of static eliminating ions for focused targets up to 500mm / 20 in. The nozzle can be used with an optional sensor and monitor to suspend emission when static elimination is complete. Available with high flow or energy saving nozzles. The cartridge can be removed for needle cleaning or replacement. Slim, compact design is suitable for installation in tight spaces.
Ion balance to +/-10V.
Operates from 24VDC, with internal high voltage power supply for ion generation.
Available manifold and bracket mounting styles.
Electrode needle contamination detector built in.
Available diffusion nozzles or straight or bendable bar nozzles.
---