PFM3, Flow Sensor Monitor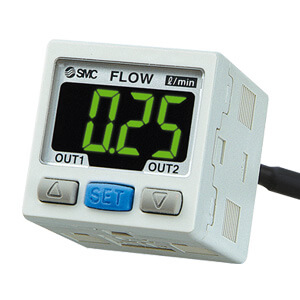 SMC's PFM dual color digital flow switch was developed initially to detect microchip component adsorption in vacuum, and early clogging in both filter and nozzle applications.  The series is incredibly compact and lightweight compared to existing flow sensors.  The PFM is available in four maximum flow rate options 10, 25, 50 and 100 L/min, and is suitable for use with air, nitrogen, argon or carbon dioxide.
Flow sensor monitor.
Sensor and monitor separation, which allows remote monitors' centralization.
Light weight.
Support for vertical and horizontal secure monitor mounting (panel mount).
Easy connection and removal of wiring.
Grease-free.
---