Powertrain Assembly

---

MGP Guided Cylinder
Series MGP is designed for high side load applications found in material handling, lifting and stopping. The cylinder utilizes an ultra-compact design by incorporating the cylinder body as part of the guide body. As the stroke length increases, so does the bearing length, thus enhancing the cylinder's load bearing capacity. Order made options for this series include adjustable air cushions, heavy duty guide rods, copper free, high temperature, and low speed.
Product with ID: "88427" not found.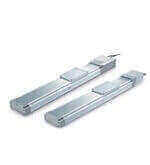 Electric Actuators
Electric actuators offer distinct advantages over their pneumatic counterparts. Acceleration and speed are controlled and predictable. Multiple positions are possible with high precision and repeatability.  Pushing forces can be programmed. With no need for compressed air, infrastructure and energy costs are lower. LE is SMC's current line of electric actuators, designed with a focus on easy setup and operation.  Function parameters come preset, plus an "Easy Mode" setting option allows you to be operational quickly. The LE line is available in a variety of types including: sliders, rod and guided rod, slide tables,  rotary, grippers, and miniature. Accessories include actuator controllers, and gateways.

SY 5-Port Solenoid Valve
SMC has improved product performance and reliability with the redesigned SY series valve. The SY3000 and SY5000 have the same valve width as their predecessors, but the flow has been increased by up to 80%, allowing the valve size to be reduced. A built-in strainer in the pilot valve prevents trouble caused by foreign matter. By using H-NBR seal material for the main valve and seals, Ozone resistance has been improved. Side, top and bottom port/pipe directions are available to allow flexible installation. The SY is available in body ported or base mounted styles, and can be used individually or manifold mounted.
*** We are currently experiencing long lead times for some SY products. Please consult with SMC Representative for alternatives ***