SMC Sales Academy
​
Developing Creative Minds to Provide Customer Solutions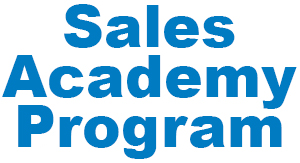 The SMC Sales Academy is a sales development program designed to provide training on our extensive product line, proficiency in our corporate sales strategies, familiarity with our manufacturing methods, and competency in our internal support processes. This is an entry-level outside sales position at SMC, with ample opportunity for growth once at the branch.
The training is both classroom-based and hands-on, accommodating the varied learning styles of trainees. Unlike other sales training programs, the SMC Sales Academy provides training through work experience; you will spend time with each of SMC's departments working and building relationships throughout your time at headquarters. These cross-departmental relationships and knowledge will make you invaluable to customers while in the field.
The SMC Sales Academy exists to prepare a person for a career in outside sales with SMC Corporation of America—we welcome interested individuals with all levels of experience and backgrounds to apply. The SMC Sales Academy is a great opportunity for those looking to gain an understanding of automation in manufacturing, regardless of their prior education or work experience. We are looking for curious-minded individuals who are looking to join a company dedicated to sustainable automation.
The Sales Academy Trainee will receive training that ranges from sales skills development and corporate culture to SMC's applications, product line, and target industries served. They will learn about sales strategy, marketing and manufacturing production, and order fulfillment. Specifically, the trainee will be required to participate in the following training activities:
Actively participate in learning activities that demonstrate sales operations and supply chain functionality
Complete written and practical training in supply chain policy and procedures
Actively participate in learning the activities of a technical support role
Complete basic pneumatics training and other technical training as directed by SMC sales management
Review product catalogs & manuals to gain a basic understanding of SMC product
Work with our internal support team to learn how to demonstrate "best in class" customer support
Partner with experienced SMC sales professionals on customer & distributor visits
Collaboration with cohort members to present a customer pitch to SMC leadership
Complete short-term work assignments in all functional areas of the business (such as production, warehouse, customer service, etc.)
Participate in simulated selling scenarios onsite with Sales Division leadership and SMC's successful sales team members
Cross-departmental and internal collaboration between teams to build strong relationships at headquarters that will be key to success in the field
Available Branches to interview with (this is where you will be assigned after graduating from the academy):
Atlanta, GA
Austin, TX
Birmingham, AL*
Boston, MA
Cedar Rapids, IA*
Charlotte, NC
Chicago, IL
Cincinnati, OH
Cleveland, OH
Dallas, TX
Denver, CO*
Detroit, MI
El Paso, NM*
Indianapolis, IN
Kansas City, MO*
Knoxville, TN*
Los Angeles, CA
Milwaukee, WI
Minneapolis, MN
Nashville, TN
New Jersey (multiple locations)
Phoenix, AZ
Portland, OR
Richmond, VA*
Rochester, NY
San Jose, CA
St. Louis, MO
Tampa, FL
*Some of the listed branches are satellite branches and will be hiring trainees on a case by case basis
Corporate Dormitory
SMC has a corporate dormitory onsite for Sales Academy participants who are not local to the Central Indiana area. This is a benefit and at no cost to participants. More details on the corporate dormitory below.
| | | |
| --- | --- | --- |
| Welcome to SMC | Lounge Area with Pool Table | Business Center PC and Printer |
| Kitchen Areas Feature Commercial Appliances | Dual Ovens and Multiple Microwaves for Food Prep | Multiple Laundry Areas are Available |
| Individual Rooms | Beds, Lamps and Tables in Each Residential Room | Built-in Dresser Drawers Provide Storage |
| Key card and PIN Codes for Safe Access to Rooms | Shower Area with Glass Door | Raised Sink in each Bathroom Area |
| Outdoor Tables, Bike Racks, and Walking Paths | Parking is Inside the Gated Facility | This is the Work Commute! |
​