LFE0, Digital Flow Monitor, 2-Screen 3-Color, IP65, for LFE Sensors
LFE0, Digital Flow Monitor, 2-Screen 3-Color, IP65, for LFE Sensors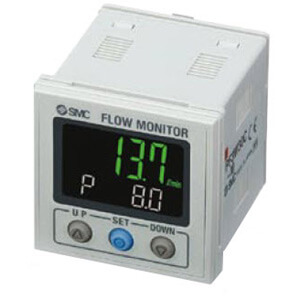 LFE0 is a monitor with display for the LFE remote flow sensors.  The sensor and monitor can be located up to 3m apart using LFE's optional cable.  View the sensor's measured value in the primary screen, while viewing a variety of secondary data in the sub-screen, including switch set point values, an accumulation quantity, or a peak or bottom value.  Alternately, assign a text description for the sensor's line or location.  Two outputs are available, including two switch signals, or a switch and analog signal.  Choose between metric or Imperial display units.  A panel mount adapter is also available, as well as connector options.  LFE0 is IP65 rated (front panel only), and CE and RoHS compliant.
Flow ranges (lpm): 0.4-24.0, 2.0-120.0, 4-240 (selectable from LFE ranges)
Power supply voltage: 24 VDC
Switch output modes: Hysteresis, window comparator, accumulation set point, accumulation pulse
Accumulated flow range: 999,999,999 L
Accuracy: ±0.5% F.S. 
Repeatability: ±0.5% F.S.
---