PFMV5, Low Air Flow Analog Sensor, Remote, IP40, -3 to 3 Lpm
PFMV5, Low Air Flow Analog Sensor, Remote, IP40, -3 to 3 Lpm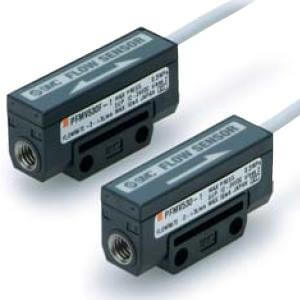 PFMV5 is a low flow analog sensor compatible with air and nitrogen.  It is intended to provide more reliable detection of suction of small components than can be achieved with a pressure sensor.  The very low flow rate ranges can also support leak detection.  Its small size permits deployment into areas with tight clearance, or manifold arrangements with a small footprint.  The sensor includes a fixed cable and holes for direct mounting, with an optional mounting bracket kit.  PFMV5 is IP40 rated, and meets, C-UL-US, CE, and RoHS standards.  Please consider the PFG digital flow monitor for displaying this sensor's output.  Also compatible with the PFMV3 monitor.
Flow range (lpm): 0-0.1 (X502), 0-0.5, 0-1.0, 0-3.0, -0.5-0.5, -1.0-1.0, -3.0-3.0
Port size: M5 thread
Rated pressure range (kPa): -70 to 300
Output: 1-5V
Accuracy: ±5% F.S.
Repeatability: ±2% F.S.
---