SMC Breaks New Ground on Sustainable Innovations in 2023
SMC Breaks New Ground on Sustainable Innovations in 2023
Wednesday, February 01, 2023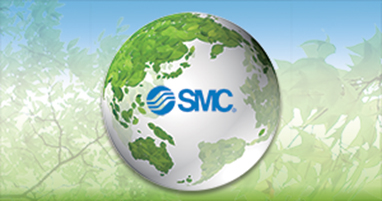 Sustainability has always been at the forefront of SMC Corporation's (SMC) values in product development. The J-Series compact actuators, for example, were released nearly a decade ago in efforts to help reduce air consumption and material usage. Since 2018, SMC has released annual Corporate Social Responsibility (CSR) reports, which outline its commitments to the environment and guide the company's strategy to meet sustainability-focused benchmarks. Adopted in 2020, SMC ramped up its efforts toward meeting robust sustainability goals by implementing the "SMC Sustainable Development Goals (SDGs) Project," directed by the United Nations' Sustainable Development Goals initiative of creating a shared blueprint for prosperity for people and the planet.
In addition to focused product developments and sustainable improvements pushed from SMC's headquarters in Japan, SMC Corporation of America has taken new approaches within its corporate operations, including the launch of new sustainable packaging for deliveries to customers from its warehouse in Noblesville. The new SMC boxes are made with a higher percentage of post-consumer recycled content (PCR), with the goal of averaging 75 percent PCR content. This reduces the organization's carbon footprint while enabling the packaging to be further recycled after use.
Furthering their commitment to sustainable business practices, SMC announced their decision to join the Sustainable Packaging Coalition, whose mission is to bring sustainable packaging stakeholders together to catalyze actionable improvements to packaging systems.
"Assembling key players in sustainable packaging to spur advances across all industries provides a credible voice on sustainable packaging-related challenges," said Tyler Turner, Sustainable Development Manager at SMC. "This partnership will be a beneficial resource to leverage the best environmentally-conscious practices that are occurring in the industry."
Expanding on this impact and furthering its commitment to reaching the established SDGs, SMC hosted two community e-waste recycling events that generated over 7,000 pounds of waste that would have otherwise been diverted to landfills. Additionally, SMC partnered with the Noblesville Parks Department to plant more than 30 trees in the Hague Road Nature Conservancy. SMC donated the plants and volunteered planting efforts, with plans to continue planting trees each year. The company expects to increase local opportunities to further its commitment to sustainability every year.
SMC's commitment to sustainability remains a steady pillar in product designs and features, allowing customers to reduce their energy consumption. As the variety of customer industries become more environmentally conscious, SMC will continue to design and manufacture components that will contribute to energy efficiency, cost savings, and a cleaner future.
About SMC Corporation of America
SMC Corporation of America, a subsidiary of SMC Corporation in Japan headquartered in Noblesville, IN, is a comprehensive manufacturer of components for the Automation, Controls, and Process industries. With technical centers in Japan, the US, Europe, and China, our vision to be the global standard for sustainable automation is realized through partnering with our customers to discover opportunities for energy and resource savings by reducing overall compressed air and electrical consumption. Visit www.smcusa.com for more information about SMC Corporation of America.